Welcome to Ketér.
You want a local salon that's stylish, convenient and modern with a down-to-earth vibe and a sense of humor thrown in.
A salon with stylists who deliver the cuts and color that make you feel confident!
A salon with hours that work for you.
A salon that invests in their stylists so that they're able to offer great service to our clients.
At Ketér, we've worked hard for nearly 22 years to be that salon. Open seven days a week for your convenience. We offer medical and retirement benefits as well as continuous training to our stylists.
What does Ketér mean?
Taken from the Kaballah, Ketér means Crown or the highest energy point in the body. Ketér is pure consciousness, timeless, an energy point where your soul enters and leaves the body.
Call us, Tuesday through Sunday, at 510-849-0306opens phone dialer to book your appointment for your Ketér hair.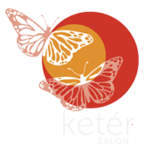 Face-coverings required
Jade surgical air purifiers
UVC tool sterilizer
Special air conditioner filtration